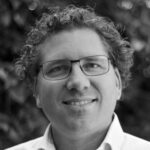 Wouter Goedvriend
Chief Information Officer / Chief Technology Officer
Wouter is roundly recognized as a thought leader and expert in the field of digital innovation dynamics. He is capable of thinking beyond his core architectural engineering background, drawing on a wide range of knowledge and disciplines to form unique, focused ideas and concepts that intersect to solve complex problems. While his leadership is clear and respected at all levels, he is considered a down-to-earth, supportive and highly valued team-player.
He has 20 years experience in designing and engineering architecture concepts and solutions. His understanding of core technology platforms together with emerging technologies, leading technologies and how to utilize them in unique and distinctive ways makes him indispensable as a chief architect and entrepreneurial chief technology officer. He has wide experience with marquee clients in the Netherlands and across Europe and has worked with several tier-one consulting firms globally as a lead consultant.